Dutch Green Business Group N.V. ("DGB" or "the Group") (Euronext: DGB: NL0009169515), a leading carbon project developer and ecosystem restoration company, proudly announces its operational Q2 update. With a project pipeline of over 16,8 million tonnes of carbon offsets, DGB is already ahead of its outlook for 2022 and on pace to deliver on its strategic and operational objectives for the year.
DGB is a project developer for nature-based projects to originate high-integrity verified emission reduction carbon credits ("VERs"). VERs are voluntary emission reductions, carbon offsets or carbon credits. VERs are a reduction in greenhouse gas emissions ("GHG") from a project that is independently audited. Each VER represents one metric tonne of carbon dioxide emissions.
"Our goal is to help nature flourish and prosper. Carbon credits provide a great opportunity to finance amazing projects. Global megatrends drive the demand for carbon credits and underpin our growth opportunities. This demand is fundamentally proven and backed through legislation by nearly every country on the globe. DGB investors appreciate this market dynamic and the significant opportunity it presents."
- S.A.M. Duijvestijn, CEO of DGB

Q2 2022 Highlights
Carbon markets & pricing:
Carbon markets are rapidly expanding. There is near-universal consensus from governments and private companies that the market needs to grow to match global net-zero needs. The current average index price for

Nature-Based Carbon Offset Credit

in the voluntary carbon markets is $8,29, and there is a premium for high-quality offsets.
Global consultancy firm EY

published a report

stating the price of voluntary carbon offsets will likely triple between now and 2035 and could rise as much as six times. EY expects prices to rise between $80 to $150 per tonne of CO2 by 2035 and increase further towards the $150 to $200 price range by 2050.
The project pipeline of the Group now consists of over 16.9 million tons of carbon credits ready for offtake agreements, a growth of +22,5% since the 13,8 million tons of carbon of last quarter and a growth rate of +603,6% YoY, making DGB the most prominent project developer of carbon credits in The Netherlands.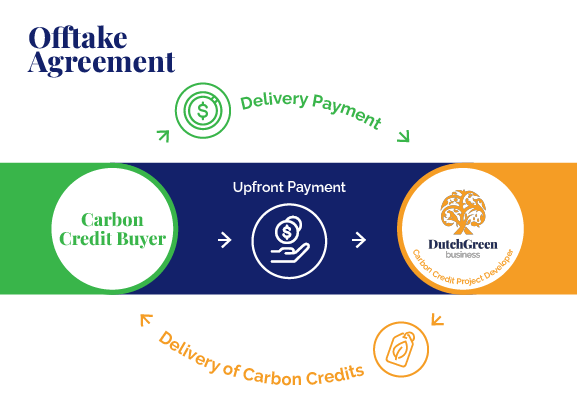 Offtake agreements & Sales:
DGB focuses on scaling its operations and financing the projects by entering into long-term offtake agreements for carbon credits to be verified later in 2022 and in the coming years. This is an essential part of its carbon credit sales and distribution strategy.
A long-term offtake agreement is a legal contract in which a buyer agrees to purchase a set amount of carbon credits at set price points at a set time, usually several years into the future. Long-term offtake agreements give DGB predictability as to how many carbon credits intend to be sold, the revenue generated by a project in the future, and bring in cash flow.
In Q3 2021, DGB entered into its first binding carbon credit offtake agreements, according to which DGB committed to offsetting carbon emissions for various customers.
In Q1, DGB completed its first substantial offtake agreement

for Verified Emission Reduction worth €1.1m with a major international energy company, contributing to its revenue in 2022. In Q2, DGB signed additional binding carbon credit offtake agreements with various customers bringing the total for 2022 to 156.572 carbon credits.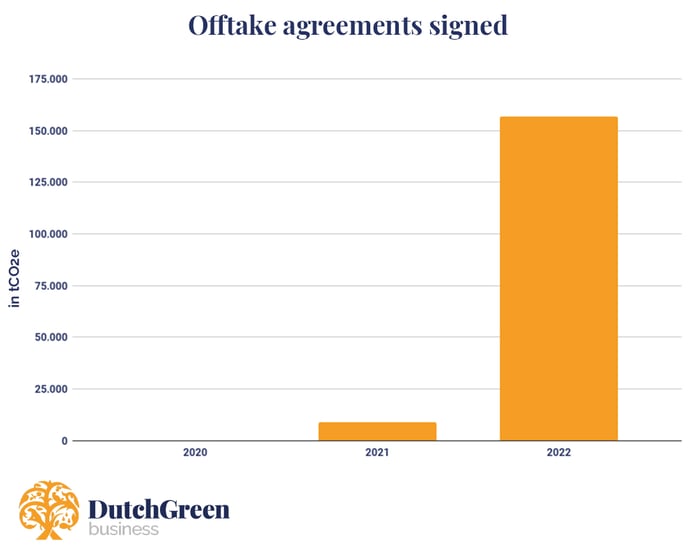 Project milestones & Financing:
In Q2, DGB launched a new €2.0 million capital raise via a placement of green bonds. Investors will receive a return of 8% per annum, and the bonds have a maturity of 4 years. The interest is paid quarterly in arrears. € 500.000 is now subscribed for. The Board of Directors is delighted with these indications of support for this green bond raise as it reflects investors' shared confidence in the business.
In Q2, DGB invited investors and corporate buyers in a tender process on five of its projects:

DGB Afforestation Project Kenya - 7 million credits over its 30-year project lifetime (approximately 225,00 carbon credits per annum).
Hongera Energy Efficient Cookstove Project Kenya - 1.8 million credits over its 6-year project lifetime (approximately 300,00 carbon credits per annum).
DGB Cameroon Afforestation Project - 5.1 million credits over its 30-year project lifetime (approximately 175,00 carbon credits per annum).
Sawa Cookstove Project Cameroon - 1.8 million credits over its 6-year project lifetime (approximately 300,00 carbon credits per annum).
DGB Uganda Afforestation Project - TBD million credits over its 30-year project lifetime (approximately TBD carbon credits per annum).

DGB expects to receive investment proposals in Q3 2022 and can close transactions to finance its current project pipeline going forward.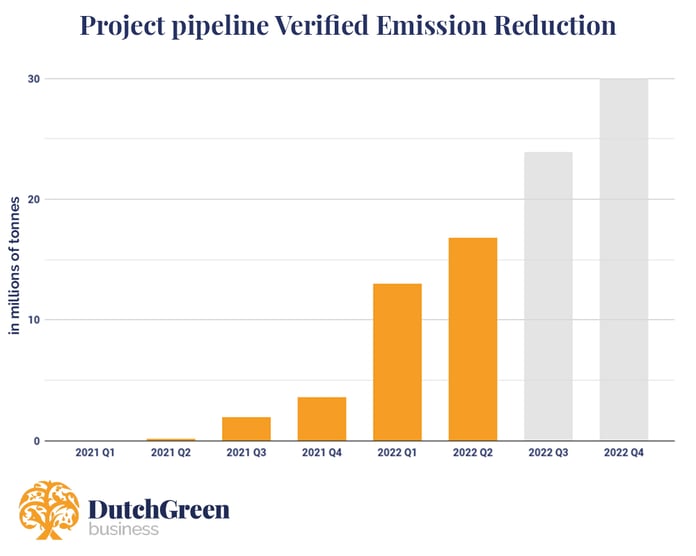 Sales & distribution network:
DGB works closely with its customers to drive more sustainable operations serving people and the planet. DGB helps assess the environmental risk to businesses and outlines the opportunities for investment in an ever-growing ESG- sector.
To boost the number of offtake agreements and finance its project pipeline, DGB in Q2 expanded its sales and distribution network further. DGB is working with ESG consultants and environmental advisory firms in the Netherlands and United Kingdom.
DGB's carbon calculator CO2.expert enables SME clients to measure their carbon footprint and offer recommendations on how to address it. The calculator has already been well received by the Company's clients and has seen strong user growth in 2022. In Q2, DGB welcomed 50 new customers to the platform.
DGB's retail brand Corekees has grown significantly since DGB's investment. After the EUR 500.000 Series, a financing round last year, the retail investment platform saw a 195% increase in the number of trees planted and a 118% increase in the total number of recurring investors through its monthly subscription model. DGB acts as a cornerstone investor in the Corekees brand for further platform development and international growth in Europe.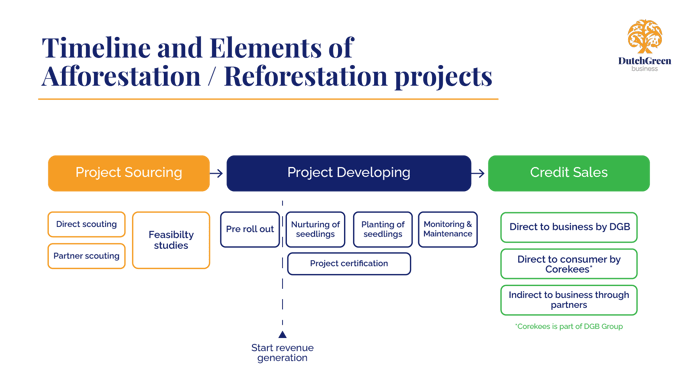 GreenTech Solutions:
DGB has increased its software development team in Q2 but delayed the launch of its cloud-based online biodiversity credits platform to the second half of 2022.
DGB continued the development of its range of GreenTech Solutions, highlighted on biodiversity.space
Outlook:
The outlook for DGB is robust, driven by increasing global demand for carbon credits and an expanding project pipeline.
With a project pipeline of over 16,8 million tonnes of carbon offsets, DGB is already ahead of its outlook for 2022 and on pace to deliver on its strategic and operational objectives for the year.
In H2 2022, the Group plans to expand into new project sites to offer more offsets to a broader range of corporate and retail clients with binding offtake agreements. The Group increases its outlook to 23.5 million carbon credits in Q3 and 30.0 million carbon credits in Q4 of this year.
Contactdetails

DGB GROUP NV
press@dgb.earth
+31108080126 (NL)
+442080640936 (EN)
About DGB:
Dutch Green Business Group NV is a public company that is traded on the main Dutch stock exchange Euronext Amsterdam under the ticker symbol AEX:DGB and ISIN code NL0009169515. DGB is a project developer of high-quality large-scale carbon and biodiversity projects accredited by third parties, focusing on making nature flourish and prosper, by helping governments and companies achieve net-zero through ecosystem restoration. DGB's vision is to be a leading high-impact investor in sustainably managed nature-based solutions by providing a competitive real return on investment for shareholders coupled with high societal impact. www.dgb.earth
Disclaimer:
This press release contains no (invitation to make an) offer to buy or sell or otherwise acquire or subscribe for shares in DGB Group NV and is not an advice or recommendation as to whether action should be taken. This press release contains statements that may be interpreted as forward-looking statements, inter alia relating to the financial position of the DGB Group, the results achieved, and the company(ies) it operates. Forward-looking statements are all statements that do not relate to historical facts. These statements are based on information currently available and on forecasts and estimates made by the management of the DGB Group. Although the DGB Group believes that these statements are based on reasonable assumptions, it cannot guarantee that the ultimate results will not differ materially from those statements that can be construed as forward-looking statements. Factors that can lead to, or contribute to, differences in current expectations include developments in legislation, technology, taxation, regulation, fluctuations in stock prices, legal proceedings, regulatory investigations, competitive conditions, and general economic conditions. These and other factors, risks, and uncertainties that may affect forward-looking statements or the actual results of DGB Group are discussed in the Annual Report. The forward-looking statements in this document apply only as of the date of this document. Subject to any legal obligation to do so, the DGB Group accepts no obligation or responsibility to update the forward-looking statements contained in this document, whether they relate to new information, future events or otherwise.